Volunteer: Green Event, Destination Imagination Global Finals
May 22, 2019 @ 8:00 am

-

May 25, 2019 @ 10:00 pm
Green Event Recycling Volunteer
Destination Imagination Global Finals
Shifts Available Wednesday, May 22 – Saturday, May 25
KC Convention Center
The convention takes place Wednesday, May 22 through Saturday, May 25; choose a shift below that works for you (you do not need to volunteer all four days).
Volunteer alongside Bridging The Gap staff and Scraps KC to help make the Destination Imagination Global Finals a Green Event!  Special events, like concerts and conventions, generate on average 1 pound of waste per person per event day! Integrating Green Event processes allows virtually all of the waste to be reused, recycled or composted!
This is a terrific opportunity for anyone interested in learning more about what happens behind-the-scenes to effectively manage a Green Event! (This is not a front-of-house public interfacing role). Working on the back dock, we will ensure the reusable materials, recycling, composting and trash are properly sorted, weigh materials, record the data and then place all recyclables into their proper dumpster for removal. Please wear clothing you don't mind getting dirty.
Location: KC Convention Center, 301 W 13th St, Kansas City, MO 64105
Min age: 18. We'll provide all supplies.

VOLUNTEER PERKS: All volunteers will receive a Destination Imagination t-shirt and those that volunteer 6 hours or longer will be entered into a drawing to win two tickets The Big Slick hosted by KC celebrities Paul Rudd, Jason Sudeikis, Eric Stonestreet, Rob Riggle, and David Koechner on June 8 at Sprint Center!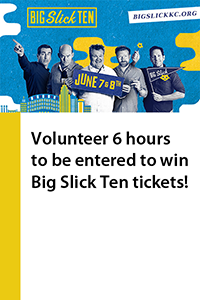 Wednesday, May 22 and Thursday, May 23
Shift 1:  10:00 AM – 2:00 PM
Shift 2:  1:00 – 5:00 PM
*Friday, May 24
Shift 1: 8:00 AM – 12:00 PM
Shift 2: 11:00 AM – 3:00 PM
Shift 3: 2:00 – 6:00 PM
Shift 4: 6:00 – 10:00 PM
*Saturday, May 25
Shift 1: 8:00 AM – 12:00 PM
Shift 2: 12:00 – 4:00 PM
*We have a greater need for volunteers on Friday and Saturday.
Sign up:  Call Cassandra at 816-561- 1091 or email Cassandra.Ford@bridgingthegap.org, mentioning your preferred date/time.
Clicking the "register for event" button below will open a blank email to Cassandra – online registration is not available for this opportunity. To sign up, please email or call Cassandra. We apologize that we are not able to offer or sign off on court-mandated community service or disciplinary service.